I met Alexandra, Alex for short, at my workplace. Alex is a mortician. But she is so much more than that.
The first thing you notice about Alex, when you meet her for the first time, is her smile. It is infectious. It is an extension of herself, as is every expression you read on her face. And that's when you notice the second thing about Alex: there is no façade. Whatever thought she has, it's there on her face and her hands and in the way she stands. But be warned, if you don't treat her with respect, or anyone else for that matter, prepare to face her wrath.
What you wouldn't realise, when you see that easy smile, is the torment that lies beneath. The smile is genuine, but her P.T.S.D. threatens to break the joy in her eyes. As with most trauma, the best way to deal with it is to talk about it. It's something she has learned and the words come relatively easy, which may account somewhat for her re-entry to the workforce.
So, the smiles come easily. The expressions are endless. The third thing you might notice, when you talk with Alex, is that she does like to talk. Be prepared to lose your morning tea break. But also, be prepared to listen, because what she has to say is worth listening to, too.
The Person
Alex spent nine years in the Royal Australian Air Force as a medic, spending time in war zones around the world, including the Middle East. She became a medic because she liked to help people, and as it turns out, she was good at it. She liked to help people because she did not like to see them suffer. I can't even begin to imagine the things she saw. And there is only so much suffering she could bare, especially when it was the children.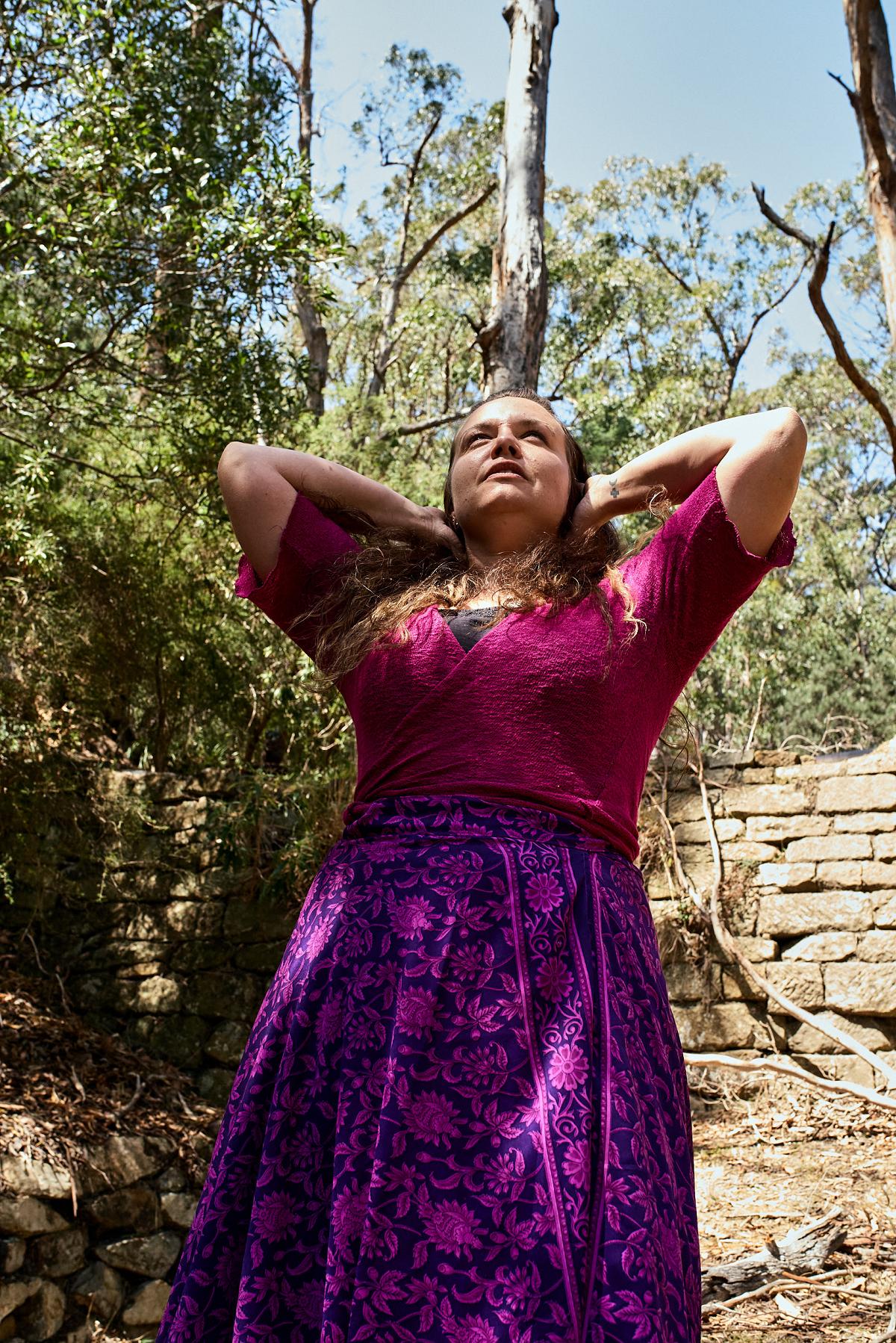 Now, Alex works in a mortuary at a funeral home, where life is much simpler and she enjoys the work. She said that her "patients" aren't suffering any more and that she is helping families say goodbye to their loved ones as they remember them. I, personally, have seen the level of care she gives the deceased and their families: she is tender and thoughtful and knows just what to say without sounding patronising.
The Shoot
Some time ago, when Alex told me some of her life's story at work over coffee, I knew I had to photograph her. When she talks, her expressions tell the story. Those expressions needed to be captured in images. We had talked about doing it for a while, but it was when my time at the funeral home ended I realised that if I didn't do it now, there was every chance that there would be no chance at all.
We discussed a location leading up to the day. It had to be a natural environment, which suited me just fine - I like to shoot away from the crowds. Alex's P.T.S.D. manifests itself during moments of discomfort, usually in crowded places, so it was important to both of us that she felt comfortable. Ultimately, we chose Featherstone Falls on kunanyi/Mt Wellington (Hobart's iconic, monolithic backdrop), only to find that the entire mountain was closed due to high fire risk. Plan B was an old favourite of mine: Waterworks Reserve, a wondrous place full of bushland and wildlife.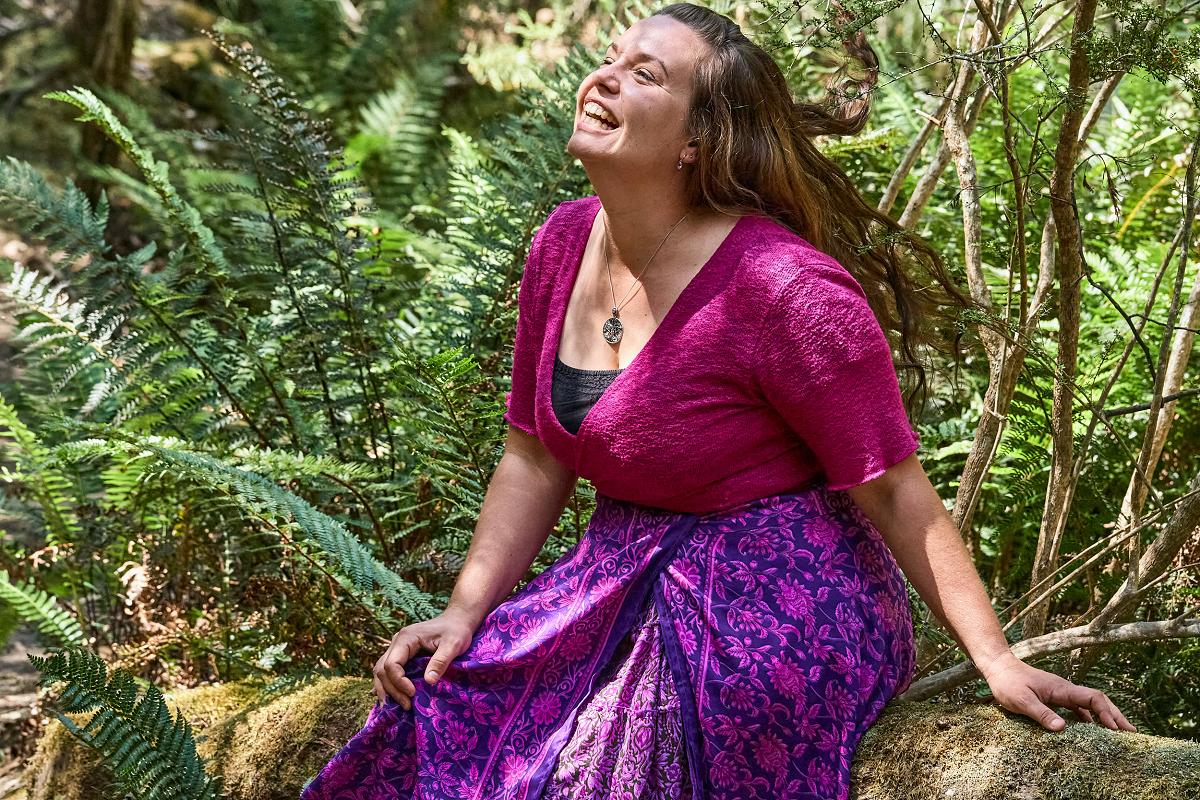 The sun was out in force (topping out at 37ºC), so I ran at a high shutter speed and dialed down the exposure by 2 stops. Even that wasn't enough once in a while, with some highlights blowing out. So we moved about a bit, stopping at four different locations. Each location had its own qualities, with the most challenging being in the forest where it was darkest. I had brought my speedlight along for just this kind of situation and completely forgot about it when I needed it - something I'm not likely to do again.
I like to have easy conversation to break down any wall between the camera and my subject, so we began with workplace gossip and moved on to her time in the Air Force, her childhood, her dad, ethics and the workplace amongst other, more private, subjects. It was easy with lots of laughter (as you might expect).

The Result
I have talked much about Alex's expressions. It would be remiss of me not to include some of these, along with some truly special moments. I enjoyed the morning we spent together and I hope that you get as much joy out of these photographs as I did taking them.