The hero shot

To get the image we were after, we needed to shoot a long series of shots, to get the material in as many positions as possible. This often meant waiting for a breeze to come. Thankfully, as it was gentle, we could see the effects of the wind on the surrounding shrubbery as it came towards us. This allowed us to predict when to begin each series of shots.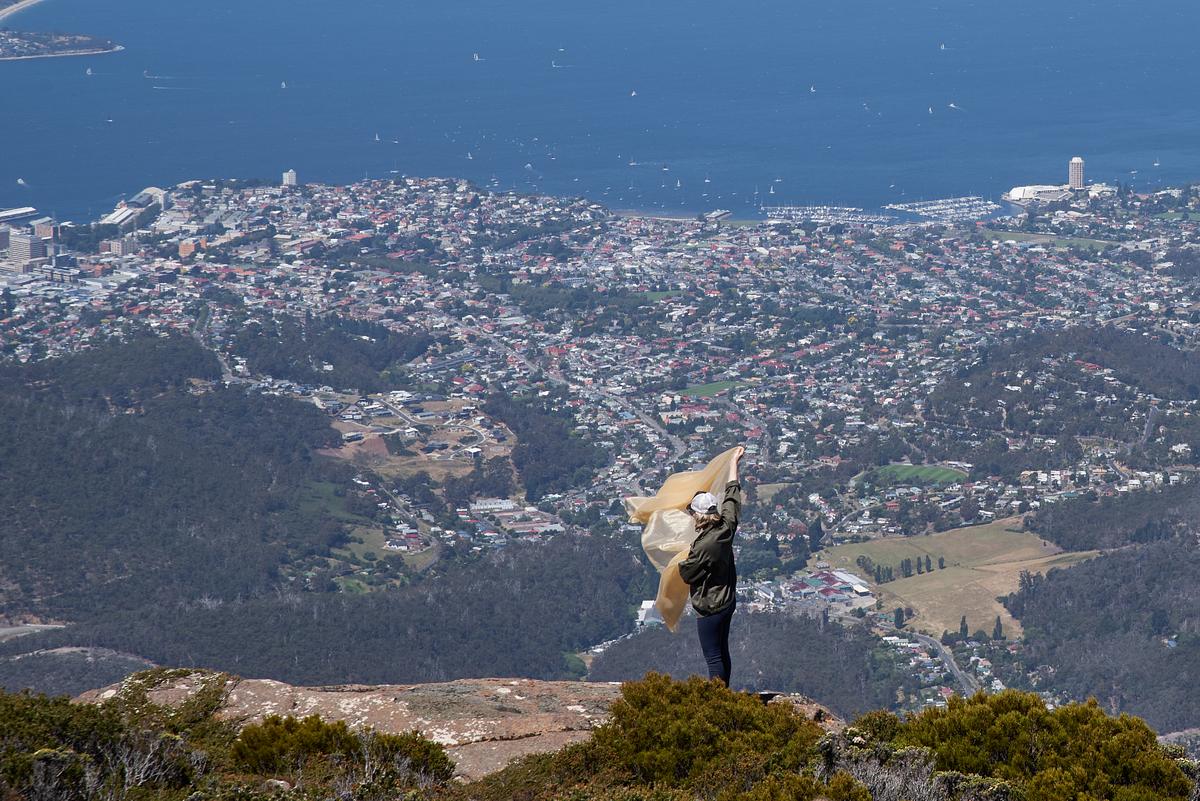 There was a plant that crept over the end of the boulder we were using, forming a type of circle and dotted with small white flowers. This was some thing that was never planned for, but we knew we could use it. After all, that is the whole point of being in a natural environment. Carole kicked off her heels and stood barefoot in the middle of the halo of flowers, which really added to the feel of the shot.
Considering the preparation involved, shooting for the hero shot was over quite quickly. In all, 141 separate images were taken. Thankfully, because they were taken within a 15 minute window, the light didn't really change much at all. You can see a time-lapse of all the images for the hero shot at the top of the page.
Camera settings were 58mm, f/9, 1/125 sec, ISO100.
Creative
With the hero shot out of the way, we could really start to get a bit creative.
On the same boulder for the hero shot, I had Carole lay down with her head in the flower halo, that she had just been standing in, stretched along the edge. We tried a series of angles, but the best by far was from Carole's head looking along the length of her body. Her hair was placed strategically by Laura. Carole had some white flowers in her hair already, which gave a seamless transition from nature to her body.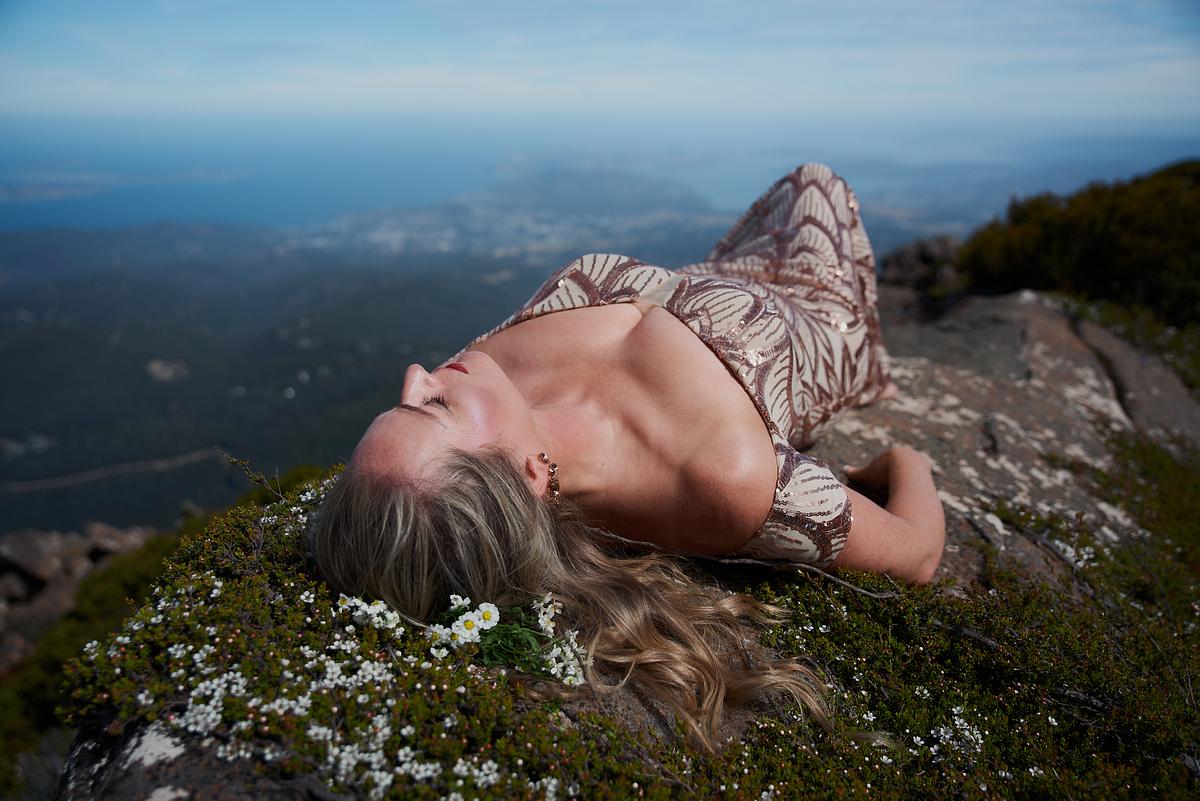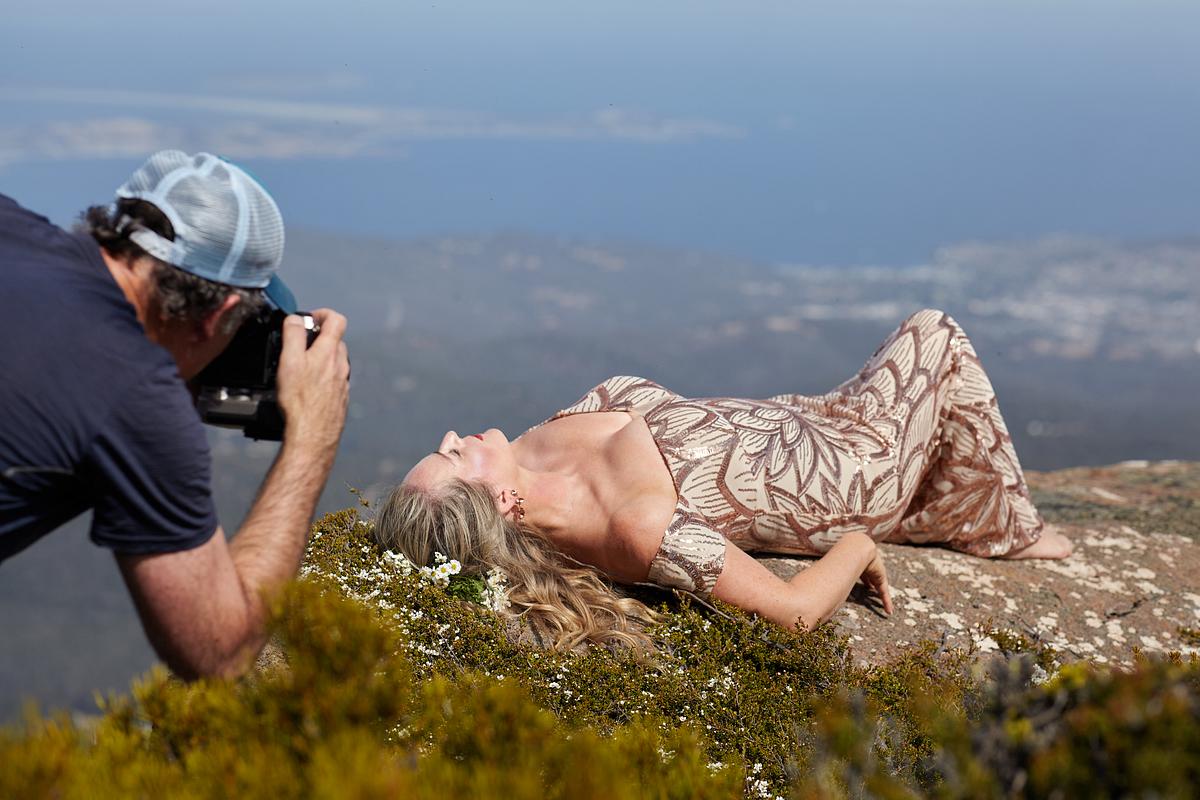 Laura had researched a number of poses we could use, one of which was a classic lean-against-a-wall pose. We found some boulders nearby that she could use, but decided while Carole was touching up her makeup that having her seated would give a much better look that suited the brief.
The next shot would also come with a dress change. Carole swapped her gold dress for a bold red dress that she wore for the 2019 Christmas Carols in her local community. We found a boulder angling out from the side of the mountain, which gave the effect that she was sitting high above the city below.
We then moved to various locations, all within 50m of the first location, to get some images that she could use for her social feeds. We took a series of wide shots to really showcase the location, with the red dress focussing all the attention.